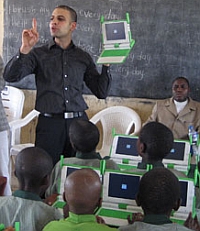 The OLPC laptop is being trialled in Nigeria, but Intel pulled out of the project that is designed to place extremely affordable, durable, and high quality laptops in the hands of children in developing countries (you can click the label for previous posts on this magnificent project aimed at increasing learning resources in impoverished nations with custom-built laptops that were initially intended to cost 100 or less- On board with the OLPC project are Google, Red Hat and 11 other companies.). Their withdrawal has created some complications for OLPC, which has found little active interest in purchasing large numbers of the machines.

Intel joined the OLPC project in July of least year and were expected to work on an edition of the OLPC laptop that places an Intel chip in the machine to replace the original AMD competitor chips the XO machines were originally designed to use. The machine was expected to be unveiled Jan 5 at a Las Vegas convention.
The XO machines were green and white, created with a crank and other extremely convenient ways to charge them, in a fashion that provided serious convenience and durability to children, including being waterproof and drop-proof.

Intel claims they pulled out because OLPC was interfering with their other project which involved a rival laptop, the Classmate, which Intel has been promoting in many of the same areas as the OLPC project.

"OLPC had asked Intel to end our support for non-OLPC platforms, including the Classmate PC, and to focus on the OLPC platform exclusively," said Mr Mulloy . "At the end of the day, we decided we couldn't accommodate that request."

He claimed also that the use of AMD chips in the first XO laptops had not influenced the decision. The OLPC project has not commented on the split but Nicholas Negroponte, founder of OLPC, did make a prior comment criticizing the chip maker for what he believed to be attempts to undermine OLPC. He believed their selling of the classmate was aiming at lower prices to make the OLPC's XO machine less attractive. OLPC's aim was to make the laptop cost only 100. USD, but the final versions have been trialled in Nigeria and Uruguay at a cost of 188. USD.

The costs were intended to be kept on the lower end by governments that would be ordering the XO machine in large shipments of up to at least one million. These agreements however have not yet materialized. The hope of success coming from the 'Buy one for a child in a developing country and get one for your child' program was launched from mid-Fall to end of December '07 however, and OLPC is blessed to announce their success in this helping to launch programs in Haiti, Rwanda, Ethiopia, Mongolia, Cambodia, and Afghanistan.

Keep your heads up OLPC lightworkers. Projects of true merit are almost always met with opposition... Success is inevitable.

Thanks Help Africa Friends Blog for the heads up!