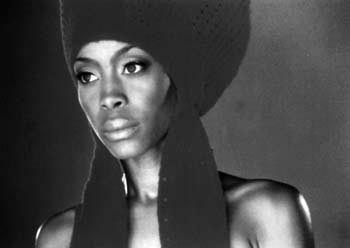 She stands tall in Motherland Archetypal Splendor, providing classic example of creative vitality, innovation and Modern Myth Weaving.
Erykah's Dream Loom Cocoon is safe for kids, while remaining potent like solar vitamins, and stardusted melanin.




Appreciation is due. I'm personally thankful and inspired by Miss Badu. Her art has message. Her style restores healthy Motherland archetypes in a society that has battled with sabotaged psychologically damaging symbolism for Kemet's children. Many of us are now rewriting our myths and traditions while recovering more information from Motherland Kemet's Historically truth-based archives. Truth always comes out (see the recently unearthed academic scrolls of Timbuktu that date back to times that are in tandem with the education the Moors bestowed on Spain, etc...)

Despite the imposed perspectives that sought to push Afrocentric beauty to the back, Miss Badu seems never to run out of new styles that present yet another way to express, project light, and dress in a fashion that embraces her own inherent originality and Kemet-kissed dna.

She is good for our daughters.




Erykah Badu is the founder of B.L.I.N.D which is described as: a Non-profit Organization Making Positive Social Change Through Economic, Artistic, And Cultural Development Of South Dallas.
She is also the present force of the Black Forest Theatre, which acts as a school of the arts.
She relays some of her spirituality through the religion she holds to, which she describes as art as well.
Click the stardust to visit the interview that elaborates on this*******

Erykah Badu is... Intelligence. Natural Beauty. Community Healing and Socially Nutritious.

Naturally we are going to have a vid moment...



Visit Miss Badu beyond the circle of the dreamstate-submerged members comprising the Higher Mind Panel, by clicking on Kemetian Blue Lilies stretching out from the Maji (Swahili for Water) of a restored Mother Earth.

~~~~~~~~~^***



Another interesting space is the Mog page dedicated to her. Click the stardust to visit ****