We love the ecological grace of Green Peach and had to share the vibe with you. Using only recycled materials this Indiefied designer manifests original works for the delight of the conscious buyer. Dedicated to sustainable clothing the designer of GreenPeach uses materials that avoid disturbing the environment while offering unique swagger.

Check her etsy shop for Repurposed goods by clicking the bowing dandelion.

~~~~~~~~~@

In the Founder of Green Peach's own words:

"I, Jenne' (designer and founder), have this theory...
Every human on this planet no matter what their circumstance has the power to help someone else or something else. we all are responsible for each other, and every other living thing (animals, plants, etc...).
Here at Green Peach, our goal is to open up Eco Fashion to those who usually think of Eco Fashion as dull and "hippy". Our planet needs help. Whether you wear sustainable clothing, or recycle your plastic bags, we must do something. We all wear clothing, why not wear sustain?"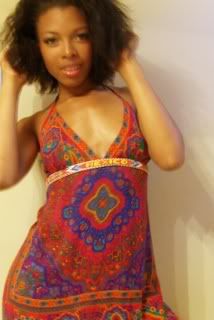 For inquiries contact her energy mail: jneclaiborne at gmail