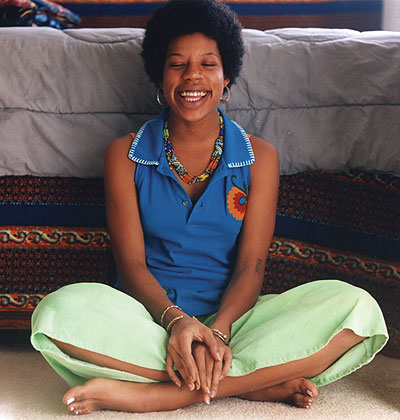 Channeling the Ancestors, Georgia Anne Muldrow takes a bold leap, and somehow makes musical pain blend into a kind of cryptic puzzle that you will be stuck on, finding you can't stop listening once it's begun playing. Her CD 'Olesi: Fragments of an Earth' opens with the track 'New Orleans' which is a complicated amalgam of musical distortion and deep tonal moaning that somehow reconfigures just as it would seem to pull at your emotion, and instead leaves a kind of fragmented impression, where you thought you were about to draw a conclusion.
Georgia Anne is a very complicated girl, but it would seem she has not even reached the tip of the iceberg yet, for there is a kind of musical eccentricity that suggests possible genius, hidden beneath layers of anger that have been sculpted and papier machied into a clever shield that stuns with brightly muted color mandalas crudely drawn, rather than outright blocking you.
An obvious appreciator of conscious hip-hop and ol' skool joints, Georgia Anne has brought us evidence in this album, that she is a force to be reckoned with while still a child with wings.
We will be there for the wing-spreading if the world earns her trust..
Find her beyond the daisy trail
~~~~~~~*