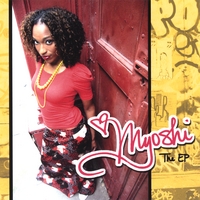 Myoshi has the voice of an angel.
Her sound is very slinky and jazzed out, with rock influences that give it a hard edged funk at times. The music contains a vitality balanced by a reserved flow that draws the listener in.

Myoshi's voice changes the air around you and transports you to a jazz lounge with street musicians crowding around a poised messenger whose wrapped her tale in the ebb and flow of song to soothe the fires within you.

It's sexy in a demure kind of way.
Myoshi was the VJ for the BETJ List on BET-J.
With co-host Maven who was one of the wrestlers on an MTV reality show, she covered interesting acts and trends in NYC until the show concluded it final season recently.
Her audience was able to catch her perform every now and again on air in performances that attracted a sincere following.
Myoshi's fans petitioned against the cut of the show, but it would seem bigger things are awaiting classically trained Myoshi Marilla.

This sultry soul singer is engaging in her musical delivery, which brings substance to the table in its own alluring package of tones and carefully chosen lyrics.
Very interesting blend of romantic savvy this femme has.
Expect great things from her.
Her EP is available on Itunes and Cdbaby.
Find her beyond the daisy field
~~~~~*