How are we feeling about this? Yes? No?
I've been using a patchouli/lavender cornstarch and beeswax blend, which is decent, but I'd really like something that lasts as long as an anti-perspirant without the Alzheimer causing aluminum deposits...

This product proposes to have it all. I am thinking of trying this and getting back to you on whether or not they are truthtellers...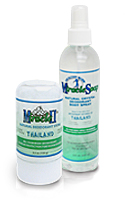 Click the unscented rose to visit them
~~~~~~~~~*